We've simplified the contractor licensing process, we teach you what you need to pass your test.  Since 1999, we've helped plumbers, electricians, HVAC technicians, and other trade professionals make the passing grade. In fact, more than 90% of TTI students pass their licensing exams the first time! We offer the following license professional development programs:
NC Heating H-1, H-2, H-3-1 Exam Prep
NC Plumbing P-I Exam Prep
NC Electrical SP-PH Exam Prep
NC Electrical Limited, Intermediate, Unlimited Exam Prep
Electrical 8-Hour CE
Wrightsoft HVAC System Design Duct Design and Load Estimating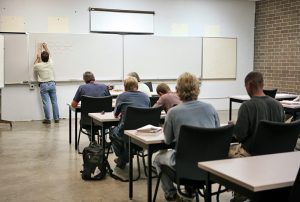 Registration Information:
Whatever your method of registration, be sure to enroll early since space is limited. We begin each day at 7:30 am and wrap up by 5:00 pm unless otherwise noted. The enrollment fee includes tuition, course materials, and Certificate of Completion.
Hotel accommodations are not included in the seminar fee. If an overnight stay is required, please make your hotel reservations directly with the hotel. Exam Prep courses require a minimum of five students; In the case of inclement weather or insufficient enrollment, students are transferred into the next scheduled course date.
Course Substitutions & Cancellations:
If your schedule changes, you may request a substitution for a different course, or cancel your registration, up to five (5) business days prior to the start of your scheduled course.  Course cancellations and transfers are subject to a $25 charge. Please note, if you don't cancel, and don't attend class, you are still responsible for payment. 
Your Tuition is tax deductible:
Even the government smiles on professional education.   All expenses of Continuing Education (including registration fees, travel, meals and lodging) taken to maintain and improve professional skills are tax deductible.
Contact Student Services:
We are continuously improving our seminars and services and welcome input and comments. Contact us, email your comments to:  studentservices@tti-nc.com or call us 919-805-9900 -7:00 am to 7:00 pm, Monday - Friday.
Enhance Your Skills & Expand Your Mind
When it's time to get licensed, call The Technical Training Institute. We make the process simple and stress-free. Call us with questions about licensing, the PSI exams, codebook requirements, and the best class format for each student's learning style.